Hardware:
5 Offline analysis computers (OA1-5)
Remote access to workstations with high computation power (with available leading-edge Image Analysis software: Amira, Imaris, NIS-Elements AI, Huygens)
overview and technical specifications of available hardware [PDF]
To get access to workstations and OA computers remotely, users outside the Faculty of Science at BIOCEV need to contact Dalibor Pánek, dalibor.panek@natur.cuni.cz. Please, provide your BIOCEV user name for access via VPN and/or IP address for direct access from computers at BIOCEV.
Software:
Software availability on IMCF computers

OA1
OA2
OA3
OA4
OA5
Workstation 1
Workstation 2
Workstation 3
Amira
✔
✔
✔
✔
Imaris
✔
✔
✔
NIS-Elements
✔
✔
✔
✔
✔
✔
Huygens
✔
LabVIEW
✔
Matlab
✔
✔
✔
✔
✔
FIJI
✔
✔
✔
✔
✔
✔
✔
ICY
✔
✔
✔
✔
Kaluza
✔
FlowJo
✔
Commercial software

Amira

1 floating license available on Workstation1, Workstation2, OA2, OA4 (reservation of both license and PC required) or on your personal PC

charged per hour - see Price list [PDF]


Imaris

1 floating license –> available on Workstation1, Workstation2, OA2 (reservation of both license and PC required)


Kaluza

10 floating licenses available for your personal PCs
available as well on OA5 PC (personal PCs preferred – users using FlowJo are therefore not blocked)


FlowJo

1 license available on OA5 PC





1 license available directly from personal PC


Huygens
NIS-Elements (with AI)

2 licenses can be used at the same time

pre-installed on Workstation1, Workstation2, OA1, OA2, and OA3 PCs (reservation required)

for remote access to our workstations refer to general manual [PDF]


Matlab

available on OA1-4 PCs and Workstation1
currently installed toolboxes: Curve Fitting, Image Processing, Parallel Computing, Signal Processing

all toolboxes are available, just contact member of IMCF for upgrade

for remote access refer to general manual [PDF]

LabVIEW

home-made tools "TTTR Data Analysis" and "Data analysis_18" for FLIM and point and line-scan FCS data analysis

available on OA3 PC

for remote access refer to general manual [PDF]

Installed freeware tools

FIJI

available on OA1-4, Workstation1-3, and most microscopic computers

ICY
Data management (OMERO):
OMERO (Open Microscopy Environment) is a powerful platform designed to facilitate the management, sharing, and analysis of microscopy data. Researchers can access OMERO at IMCF through a web interface at omero.natur.biocev.org, making it easy to view and analyze their datasets remotely.
OMERO aligns with the FAIR principles, which stand for Findable, Accessible, Interoperable, and Reusable. By adhering to these principles, OMERO ensures that microscopy data becomes more discoverable and accessible, fostering data sharing and reusability across research communities. The FAIR principles promote open science and contribute to the integrity and transparency of research.
For access to OMERO, users must have a valid BIOCEV account.
Request an access to OMERO from IMCF staff and wait for confirmation.
Log in at omero.natur.biocev.org with your BIOCEV credentials.
If successfully logged in, an account has been created for you. You should see something like this (with your name instead)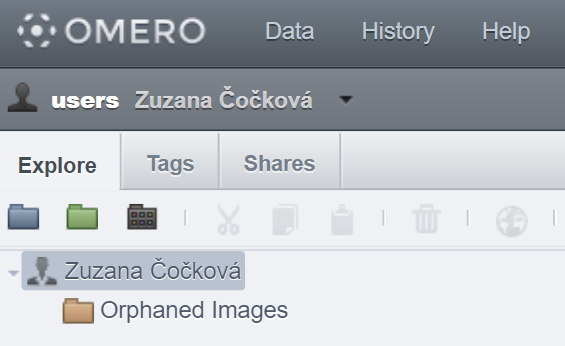 Let the IMCF staff know that you successfully logged in and your account will be linked with relevant data repositories.
When linked, you can access shared data by clicking on the panel users 'yourname'. List of groups you have been granted access to will be shown. To show data, choose All Members from the associated group.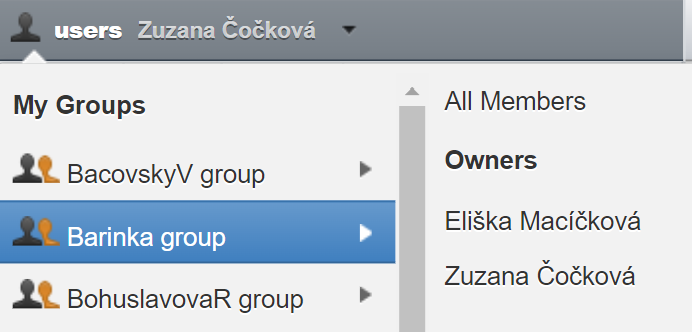 Images are to be found inside Project (grey) and Dataset (green) folders.