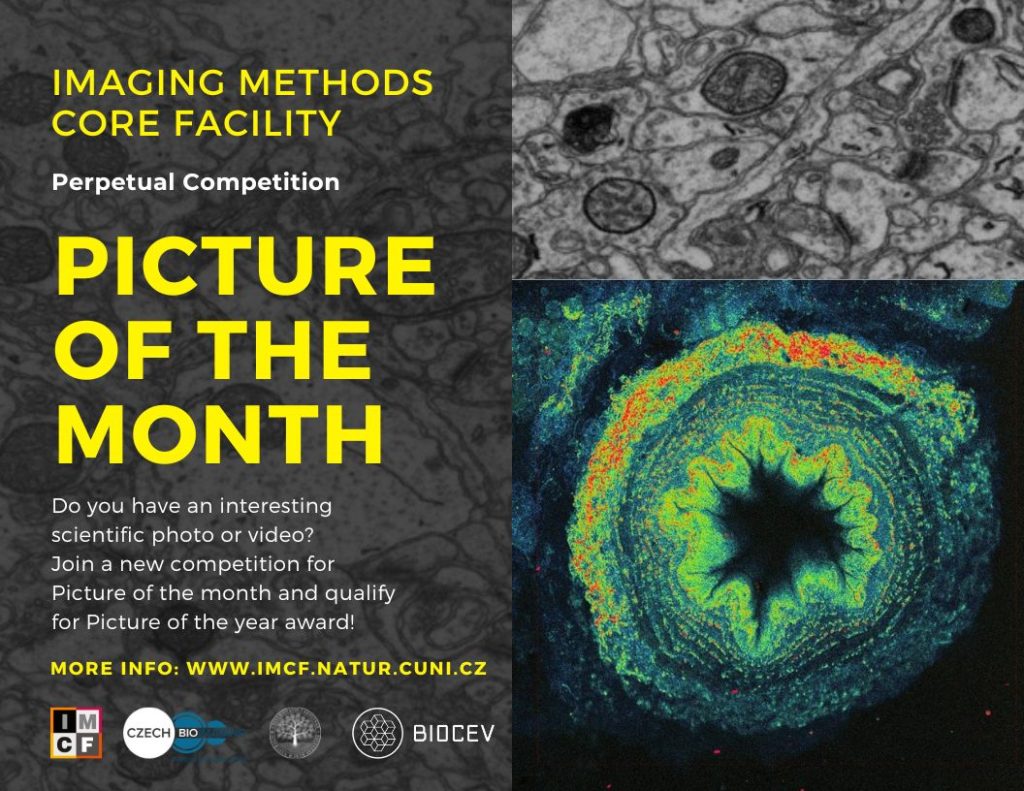 Competition guidelines:
Who can participate:
All users of the IMCF
Submitted materials:
Microscopy images/movies limited to those acquired at IMCF.
Images/movies limited to maximum 3 items per author (per month).
Images in TIFF or JPEG format (max 25MB).
Movies in MP4 format (max 15 sec and 25MB*).
Each item to be submitted together with this description form.
(*) For submission of a larger movie file please contact our staff (email-link below)
How to Submit:
By email to picture-of-the-month-usergroup@natur.cuni.cz
Authors acknowledgment:
Competitors must be the original authors (owners) of materials submitted to the competition. Authors submitting their materials to the competition provide consent with use of the materials for marketing purposes and their presentation on IMCF and/or BIOCEV website or other media.
Submission deadline:
End of each month
Evaluation
Competition materials will be evaluated by the IMCF staff and the winner of the competition will be announced the first week of each month on the IMCF website.
Here is the gallery showing the winning pictures.
Picture of the Year award
Winners of the Picture of the Month competition automatically qualify for the Picture of the Year award. This will be evaluated by all BIOCEV staff (in on-line voting) and awarded in January of the following year.
For more information, please contact: faltynkka@natur.cuni.cz